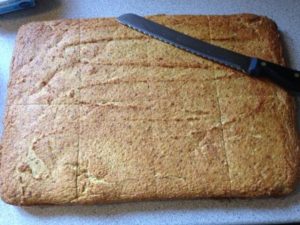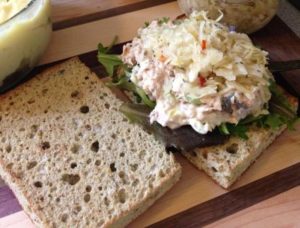 Tutorial for 16-Slice Batch
Preheat oven to 450F.
Prepare 10″ x 15″sheet pan with parchment, hanging over on two sides.
Spray lightly with oil.
In a large bowl:
16 eggs
1/3 cup oil
1.5 cups water
WHISK to combine.
Add 2 cups LoveMyBuns baking mix.
WHISK to combine.
ADD 1/3 cup vinegar or lemon/lime juice, and working quickly, WHISK to combine.
Again, working quickly, SCRAPE into prepared cookie sheet with a rubber spatula and spread evenly.
PLACE in middle rack, lower temperature to 400F.
Bake 20 minutes, then turn off the oven but let bread continue to bake in the oven for another 5 minutes, or until bread is firm and springs back to the touch. 
Run a knife along the sides of the pan that do not have parchment to loosen the bread from the pan.  Place a cooling rack upside down over the top of your pan of bread.  Using oven mitts, pinch the sides of the cookie sheet and cooling rack together, and flip the whole thing over and put it down.  Remove the pan and then the parchment off the bottom of the bread; be careful, there will be lots of steam.  Let cool before slicing. 
Slice bread in half lengthwise, then into quarters widthwise, so you end up with eight rectangles.  Alternatively, slice into twelve smaller rectangles (4 across lengthwise, and three across widthwise) Slice each of these in half on the horizontal, so you have a top half and a bottom half.  Freezes well.  Each of the 16 slices is one portion, as per the Nutrition Facts Panel.  Next to try…  grilled cheese sandwich!