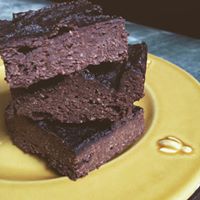 Banana Brownies
Preheat oven to 325F.
Line an 8×8 pan or glass baking dish with parchment paper.
In a food processor or in a medium bowl using a hand mixer (beaters, as my mom used to call them..  love you, mom!)
4 medium-large bananas, sliced and mashed well
1/2 cup chocolate chips (appropriate to your dietary restrictions), melted
1/2 c granular sweetener of choice (xylitol, erythritol, coconut sugar, or sugar)  OR substitute 1/3 cup sunflower butter or nut butter of choice PLUS  1/2 tsp pure powdered stevia extract
2 tsp vanilla extract
1/2 cup cocoa powder and combine.
Once combined, add
1/2 cup LoveMyBuns Baking Mix
Once combined, working quickly add
3 TBS apple cider vinegar, or lemon/lime juice
Use a rubber spatula to scrape into your prepare pan and spread/flatten.  Batter will be quite thick.
Bake at 325F for 45 minutes.  Refrigerate to cool completely and slice.  And enjoy.