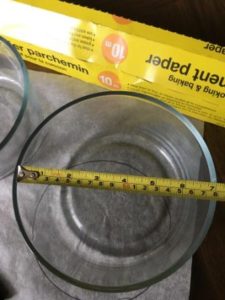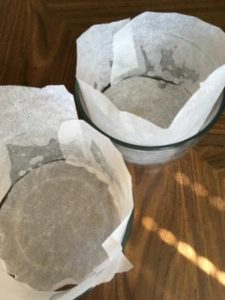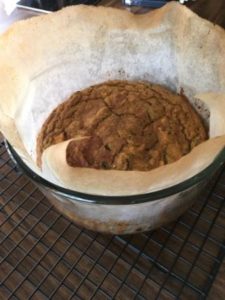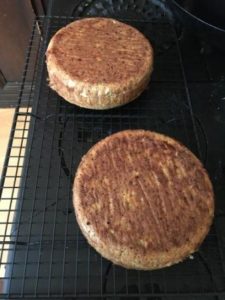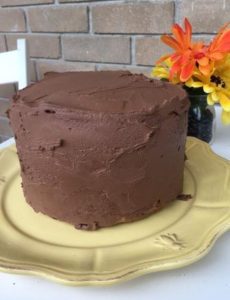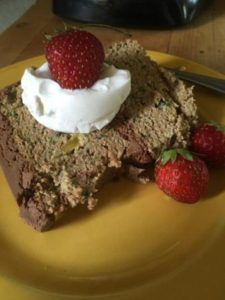 Preheat oven to 450F.
Prepare your pans:  line two 7″-9″ pans with parchment paper and spray with cooking spray.  I didn't have any metal pans at the time, so I used glass dishes, which worked fine.  Parchment the bottoms and the sides…  this batter loves to stick!  And don't forget to spray with cooking spray (I use coconut).
In a small bowl, whisk to combine:
1 cup Love My Buns mix
2 tsp pure stevia powdered extract (I like Now brand, it doesn't have anything else added to it)
2 TBS cinnamon
Prepare your add-in:  I used two small zucchini, grated, but you could substitute carrots, or berries (1 cup), or chocolate chips, or omit altogether.
In the bowl of an electric mixer, or in a medium-large mixing bowl, whisk to combine:
8 large eggs
3/4 cup water
1/3 cup oil of preference (coconut or avocado work)
2 TBS vanilla extract
Whisk in the dry ingredients.
Add the shredded zucchini (or carrots, etc), mix with a rubber spatula.
Quickly add 3 TBS apple cider vinegar or lime or lemon juice and whisk until just combined.
Working quickly, use a rubber spatula to divide the mixture into your prepared pans.
Place in center of oven, reduce to 400F, and set timer for 20 minutes for 9″ pans, 25 minutes for 8″ pans, and 30 minutes for 7″ pans (like mine).
Check for done-ness (pointy knife or toothpick should come out clean, or the top should feel firm and bounce back to the touch.  If they need a little more time, set for another 5 minutes).
Once firm, turn oven off but leave layer cakes in for another 5 minutes.
Remove pans to a cooling rack for 5 minutes, then slide the parchment paper out from the sides of your cake layer.  Carefully turn the cakes out upside down onto the cooling rack and let cool.
FROSTING:
I chose a dairy-free bittersweet chocolate ganache, but feel free to use cream cheese frosting, buttercream, etc.  Whatever floats your frosting boat.
Ganache:
1 cup chocolate chips
1 TBS vanilla
Place in a medium bowl.
1/2 cup full fat coconut milk (or heavy whipping cream)
In a small saucepan, bring to a simmer.  If you  are using unsweetened chocolate (ie: bakers chocolate), add your stevia here (I added 1 tsp Now powdered stevia extract)
When the coconut milk or cream simmers, immediately pour over the chocolate chips, and be sure to use a rubber spatula to scrape it all into the bowl with the chocolate chips
Ignore this bowl for ten minutes.
Use a whisk to slowly, carefully start mixing the now melted chocolate chips and the cream, until you get a nice, thick, uniform chocolaty sauce known as ganache.  If you were to accidentally introduce a drop of water in this step of the process, the whole mess would seize up into a grainy glob, so definitely try not to do this.  Recently washed whisks are notorious for hiding little drops of water in their handles, just waiting for the right moment to  sneak out and cause a disaster.  Consider yourself warned.
You can pour your ganache over your layers now for a thinner, shiny chocolate coating or leave it to cool  and it will thicken up, then you can spread it on like a traditional frosting.  Alternatively, you can refrigerate overnight and put it in your stand mixer the next day and it whips up very nicely into a thick, creamy, spreadable frosting.
Enjoy and let me know