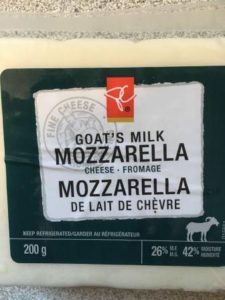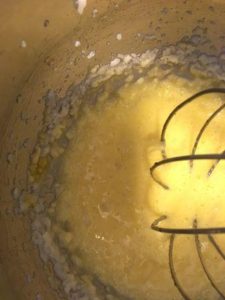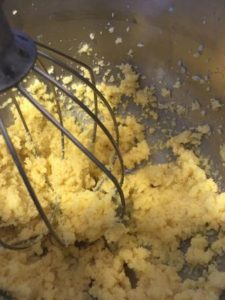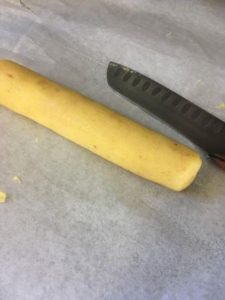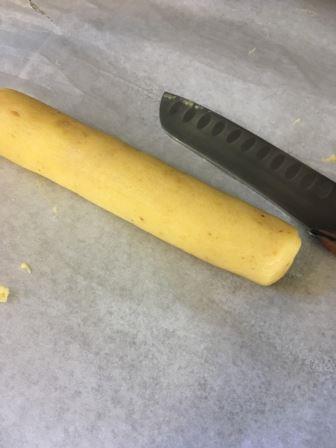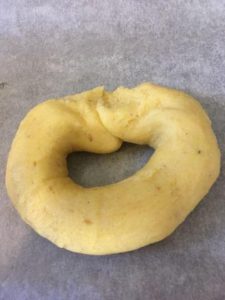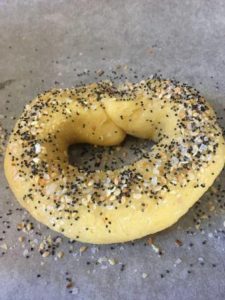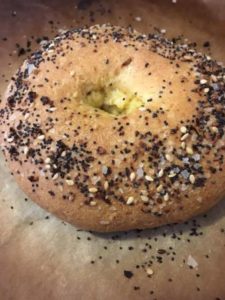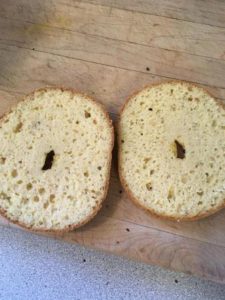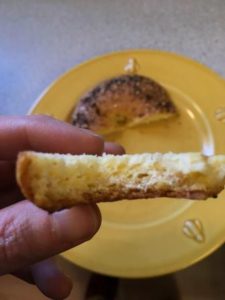 LOVE MY BAGELS
Makes 6 bagels.
Preheat oven to 450F.
Prepare a cookie sheet by lining with a piece of parchment paper.
SHRED 600 g of low fat mozzarella cheese.  (In my pics, you will see goat mozz because we have a cows' milk dairy allergy in our house, but, by all means, use regular mozzarella if you are ok with it.)
Place shredded cheese in microwave safe (ie:glass) bowl, and microwave until soft and just melting (I did this in 30-second increments, and stirred using a rubber spatula each time, and it took 90 seconds in my microwave).  It was soft, and still in melty shreds, but not a puddle.
Let stand to cool for 1 minute.
In a stand mixer on LOW speed, or using beaters, or just using a rubber spatula or wooden spoon, mix the cheese to distribute any residual heat.
ADD 6 eggs, one at a time, and mix well in between each egg. (SEE PIC #2) Use a rubber spatula to scrape down the sides of your bowl to make sure all ingredients get properly incorporated into the dough.
ADD 3/4 cup Love My Buns baking mix and mix well.  Scrape down the sides of your bowl. (SEE PIC #3)
ADD 3 TBS apple cider vinegar and mix well.
AT this point, work as quickly as you can (meaning, don't decide now is the time to walk away for 10 minutes; the vinegar you just added to the mixture is causing the baking soda to rise the dough and you want to get them in the oven sooner rather than later, so you don't end up with flatbreads rather than bubble-filled bagels.)
Scrape all the dough from your bowl and make a ball.  (SEE PIC #4)
Divide the ball in half.
Divide each half into 3 equal-ish balls.  You should now have 6 smaller dough balls.
Roll a dough-ball into a sausage shape, just like back in the days of playing with playdough. (SEE PIC #5).
Transfer to the parchment lined cookie sheet.
Tack the ends together by pressing one into the other.  (SEE PIC #6)
Sprinkle with seasoning if desired (see "EVERYTHING BAGEL" recipe here…)
Repeat to make 6 bagels.
Place in upper middle of your oven and bake for 8 minutes at 450F.
Drop temperature to 300F and continue baking for 15 minutes.  If you are a kitchen geek like me and have a cooking thermometer kicking around, you are looking for an internal temperature of at least 212F.
Remove and let cool for at least 10-15 minutes before slicing.
Bravo!  You made bagels!  Send me a picture!  I LOVE seeing you make stuff…