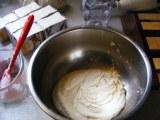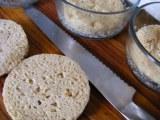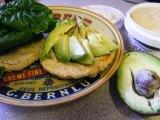 Tutorial for VEGAN TRIPLE BATCH using microwave:
We are actually going to make a 4 x single bun recipe divided into 3 ramekins or Pyrex baking dishes.  Replace each large egg with 1/4 of a 12.3 oz box of extra-firm silken tofu and omit the water of the original recipe.
YIELDS 3 buns, similar in texture to English muffins.
OIL or spray 3 baking ramekins (4.5 – 5" diameter).
Using electric hand blender, blend one 12.3 oz package of extra-firm silken tofu until smooth.
In medium bowl, WHISK together:
the blended tofu
1 TBSP  + 1 tsp oil (such as olive or avocado)
ADD 1/2 cup LoveMyBuns baking mix and whisk until combined.
ADD 1 TBSP + 1 tsp vinegar or lime or lemon juice. Working QUICKLY, whisk to combine.
Working QUICKLY, use rubber spatula to transfer mixture into oiled ramekins.  Mixture will be quite thick, so press down into place.
Microwave: On high for 10-12 minutes, or until tops are fully cooked and spring back when you touch them. (be careful:  they are HOT!)