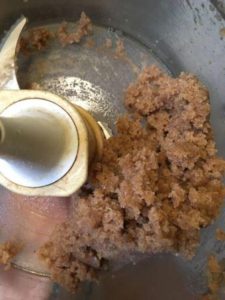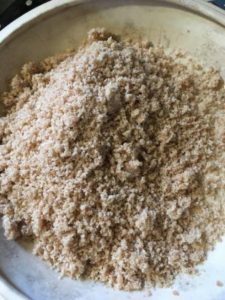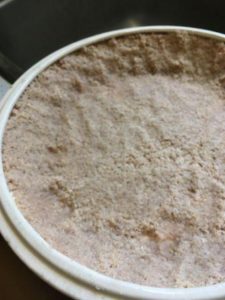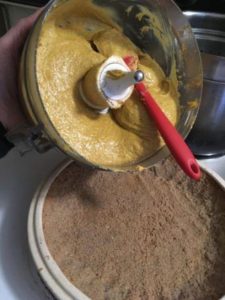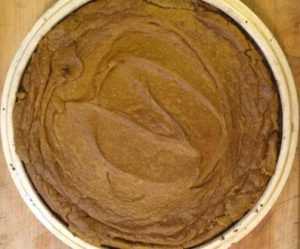 Love My Pumpkin Pie
Preheat Oven to 350F.
CRUST:
In a food processor, pulse to combine dry ingredients:
¾ cup Love My Buns baking mix
¾ tsp cinnamon
THEN, add and pulse to combine:
1/3 cup coconut oil or softened butter
1 tsp vanilla
1 egg (can substitute gelatine egg for an eggless version: 2 TBS cold water in a small bowl; sprinkle with 1 TBS gelatine, and let sit for 5 minutes; ADD 2 TBS boiling water and whisk until gelatine has dissolved.)
3 TBS apple cider vinegar
Mixture will be moist but crumbly(PIC#1).  Press  into a 9 inch pie plate/pan(PIC#2).   Even a springform pan would work, in a pinch.
Bake at 350F for 8 minutes, or until just turning golden brown(PIC#3).  Don't send your food processor to the dishwasher just yet…
FILLING:
In a food processor, combine ingredients(PIC#4):
1 large can (796ml) pumpkin puree or 1 medium butternut squash, roasted and peel removed
1 can(400ml) coconut cream (or 35% heavy whipping cream)
½ cup melted coconut oil (or butter)
3 TBS vanilla extract
½ tsp powdered pure Stevia extract (or substitute ½ cup sugar or other granulated sweetener)
1 TBS cinnamon
1 tsp ground ginger powder
¼ tsp ground allspice
1/8 tsp nutmeg
1/8 tsp clove
pinch of salt
3 eggs (or substitute gelatine for an eggless version).
Use a rubber spatula to scrape mixture into your pie crust (PIC#5) and bake at 350F for 45 minutes.
Let cool and refrigerate to set and keep for up to 1 week.
GELATINE EGG SUBSTITUTION (ie:  pumpkin mousse)
Place your coconut milk, spices, salt, and coconut oil in a saucepan.  Sprinkle with
2 TBS powdered gelatine, let sit 5 minutes to 'bloom' the gelatine.
In the meantime, in your food processor, blend the pumpkin, vanilla, and stevia.
Heat your saucepan over medium-high and whisk until simmering.   Pour into your food processor while it is running and continue mixing until well blended.
Pour into your baked pie crust.  OR DON"T.  Use as a mousse, it sets up really well.
If using gelatine egg in the filling, you don't even need to cook the pie, put it right in the fridge to set up, as there aren't any raw eggs to worry about.