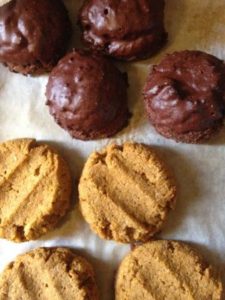 Makes 8 x 2″ cookies.  Preheat oven to 350F.  Prepare a cookie sheet with parchment paper.  If you have a cookie-sized portion scoop, gather that up also.
In a medium bowl or mixer with whisk attachment, mix together:
1 large egg
1/4 cup oil or soft butter
1/2 cup roasted pumpkin (I assume canned pumpkin would work just as well)
1 tsp vanilla
6 drops lemon oil/flavour (optional)
1 tsp pumpkin spice (or 5-spice blend + 1/4 tsp nutmeg)
1 tsp ground cinnamon
1/2 cup unsweetened applesauce
1/8 tsp stevia
1/4 cup coconut milk (or other milk or heavy cream)
1/2 cup LOVE MY BUNS baking mix
Working quickly, add
1TBS + 1tsp apple cider vinegar, or other vinegar/lemon/lime juice.
Working quickly, portion onto parchment-lined cookie sheet.  Press down with your fingers or the back of a fork.  These are a little cake-y, and won't spread on their own.
Bake 12 minutes.  They need to cool completely (or even refrigerate) before they set up.  So spicy, they are like an intense bite of pumpkin pie, but the spice covers any aftertaste the stevia might have.