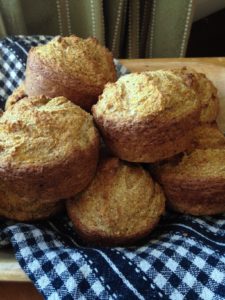 Preheat oven to 450F.  Yields 12 muffins.
Line muffins tins with paper cups.  I like the parchment ones; the muffins release more easily, and don't stick to the paper.
In medium bowl or in stand mixer, WHISK together:

8 large eggs,
3/4 cup water 
3 TBSP oil
1 TBS cinnamon
1/2 tsp nutmeg
1/2 tsp ginger
1/4 tsp clove
1/2 tsp pure stevia extract powder
1 tsp vanilla
6 drops lemon oil or flavour (optional)

ADD 1 cup roasted butternut squash (this was one small squash) or pumpkin puree and mix until combined.  If you are keeping it LOW CARB, just omit the squash/pumpkin altogether and these will still be delicious.
Add 1 cup LoveMyBuns baking mix and mix until combined.
If you have a portion scoop or an ice cream scoop, now's the time to pull it out.
ADD  3 TBSP. vinegar or lime or lemon juice. Working QUICKLY, mix to combine.
Working QUICKLY, use portion scoop or spoon to transfer mixture into muffin cups.
Place on middle rack in oven and lower temperature to 400F for 18 minutes, then turn oven off but let muffins continue to bake in the oven another 5-10 minutes or until fully cooked and muffin top springs back to the touch.