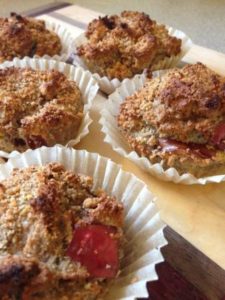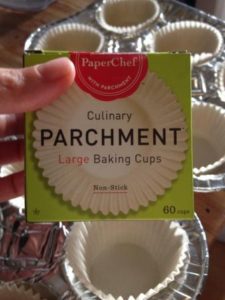 Raspberry – Lemon Muffins
Preheat oven to 450F.  YieldS 12 muffins.
Line muffins tins with paper cups.  I like the parchment ones; the muffins release more easily.
Measure out 1 cup fresh or frozen (make sure they aren't all clumped together) raspberries and set aside.
In medium bowl, WHISK together:
8 large eggs
1/2 – 3/4 cup water (if using granulated sweetener, use 1/2 cup; if using Stevia powdered extract, use 3/4 cup)
3 TBSP oil (such as olive or avocado),
2 tsp cinnamon,
1 tsp vanilla,
6 drops lemon essential oil or 1/4 tsp lemon extract or flavour
1/2 cup granulated sweetener (sugar, 1:1 sugar substitute, etc) OR 1/2 tsp Stevia extract powder
ADD 1 cup LoveMyBuns baking mix and whisk until combined.  (Batter should have the consistency of hummus and will thicken slightly as it sits.  If it is too thick, add a little more water, one TBS at a time, if too runny, add a little more baking mix, one TBS at a time)
If you have a portion scoop or an ice cream scoop, now's the time to pull it out.
ADD raspberries and  3 TBSP. vinegar or lime or lemon juice. Working QUICKLY, use a spoon or rubber spatula to combine.
Working QUICKLY, use portion scoop or spoon to transfer mixture into muffin cups.
Place rack in top third of oven and lower temperature to 400F for 20 minutes, then turn off oven but continue to bake another 5-10 minutes, or until fully cooked and muffin tops spring back to the touch.
Remove muffins to cool on a cooling rack.  Refrigerate for up to 10 days.