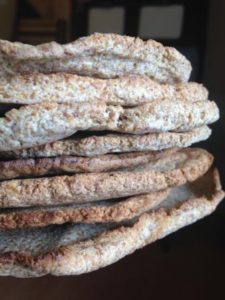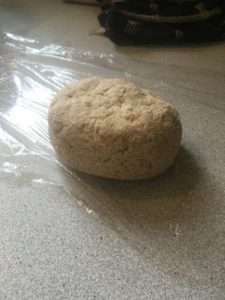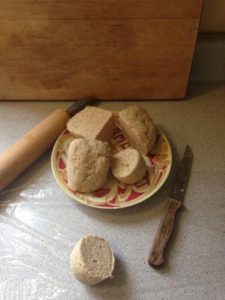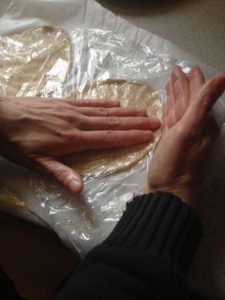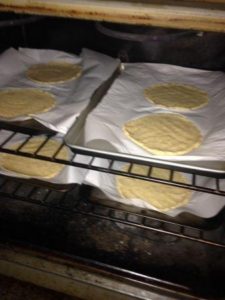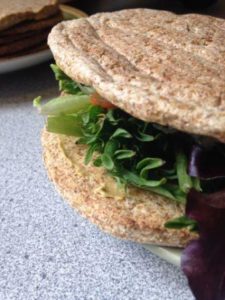 Finally!  An egg-free, vegan, and autoimmune-friendly version of Love My Buns.  Similar to pita bread in texture and passed the "packed lunch sandwich test".  Yay!  Also great for dipping or as pizza crust.
Eggless (VEGAN, AIP) Flatbreads
1 cup ground flaxseeds (I prefer the gold ones, they have a gentler flavour than the brown ones, but brown will work, too)
3/4 cup Love My Buns
WHISK TOGETHER.
Add:
1.5 cups hot water
2 Tablespoons Apple Cider Vinegar or lime or lemon juice
Mix and let sit for 10 minutes.
Preheat oven to 350F.
DIVIDE YOUR DOUGH BALL into 10 equal portions.
I wet my hands with cold water to keep the dough balls from sticking to my fingers and spread them on top of parchment paper made to fit a standard 15″ cookie sheet, each dough circle should be about 5″ diameter.  If you off-set them, you should get four per pan.
Bake on parchment for 8-10 minutes, use a spatula  to flip them over then bake for another 8-10 minutes more.  They should be turning golden but shouldn't burn.
They will firm up as they cool and should be refrigerated if storing for later.