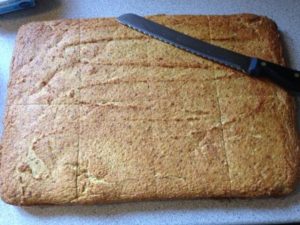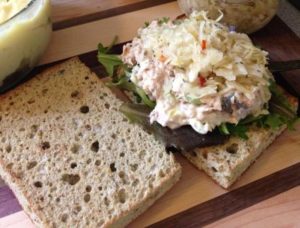 How to bake a 'LOAF' of LMB bread?
Yields 8 large sandwich buns (16 slices) or 12 medium sandwich buns (24 slices), depending on how you slice your flatbread.
Preheat oven to 450F.  Make sure one of your oven racks or shelves is in the top third of your oven.
Prepare 10″ x 15″sheet pan with parchment, hanging over on the two longer sides.
In a large bowl:
16 large eggs, whisked
300 – 350 ml water (start with 300 ml and reserve the rest.  Your finished batter should be roughly the consistency of hummus; if it is too thick, add the extra 50 ml of water and whisk to combine).
2 cups LoveMyBuns baking mix
WHISK to combine.
ADD 1/3 cup vinegar or lemon/lime juice, and working quickly (as in, don't walk away for 5 minutes, you will lose the rising action of the baking soda and acid which you just added), WHISK to combine.
Batter should be thicker than pancake batter, roughly the consistency of hummus; if it is too thick, add the extra 50 ml of water and whisk to combine.
Again, working quickly, SCRAPE into prepared cookie sheet with a rubber spatula and spread evenly.
PLACE on top third rack, lower temperature to 400F.
Bake 20 minutes, then turn off the oven but let bread continue to bake in the oven for another 5 minutes, or until bread is firm and springs back to the touch. 
Run a knife along the sides of the pan that do not have parchment to loosen the bread from the pan.  Place a cooling rack upside down over the top of your pan of bread.  Using oven mitts, pinch the sides of the cookie sheet and cooling rack together, and flip the whole thing over and put it down.  Remove the pan and then peel the parchment off the bottom of the bread; be careful, there will be lots of steam.  Let cool before slicing. 
8 BUNS/16 SLICES
Slice bread in half lengthwise, then into quarters widthwise, so you end up with eight rectangles.
Each of the 16 slices is one portion, as per the Nutrition Facts Panel.
12 BUNS/24 SLICES
Alternatively, slice into twelve smaller rectangles (4 across lengthwise, and three across widthwise).
Each of the 1/12 pan (top and bottom, as opposed to one slice) is 1.33 portions, as per the Nutrition Facts Panel.
Slice each of these in half on the horizontal, so you have a top half and a bottom half.  Freezes well.  You can reuse the piece of parchment you baked with by cutting it into rectangles and placing it between the buns as you freeze them; this way they won't stick together.
RECIPE VARIATION: To make your bread a little more interesting and savoury, sprinkle with 'Everything Bagel' seasoning blend.  In one of the pictures above, you'll see I sprinkled half my loaf and kept the other half plain, so I could enjoy it both ways.
Next to try…  grilled cheese sandwich!