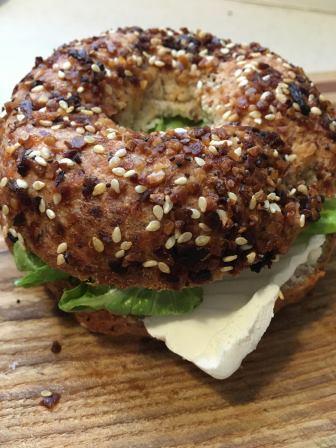 Place rack in top third of oven. Preheat to 400F. Yield: 2 Bagels.
Prepare your baking sheet with parchment paper.
METHOD FOR THE 'FATHEAD' DOUGH
1. In medium bowl, whisk together:
2/3 cup water
2/3 cup LoveMyBuns BREAD Mix
2. In microwave, melt together, in 15 second increments:
1/4 cup (56g) cream cheese
1/2 cup (56g) shredded mozzarella (light also works)
until just melted (takes about 30 seconds) and stir to combine.
3. Add melted cheeses to LoveMyBuns dough and knead to combine.
METHOD FOR BAGELS:
Divide dough ball in half.
Roll each half into 18cm sausage shape.
Form each sausage into a round and pinch ends together.
Top with BAGEL SEASONING, if desired.
Bake in top third of oven.
Reduce temperature to 375F.
Bake 35 minutes.
Let cool before slicing.
Whisk water and LMB BREAD mix.

Measure cheeses.

Melt cheeses.

Add cheese to dough.

Knead to combine.

Here is your 'fathead' dough.

Divide dough in half.

Form into sausage shape.

Form rounds. Pinch ends.

Everything Bagel Seasoning.

Press lightly to make it stick.