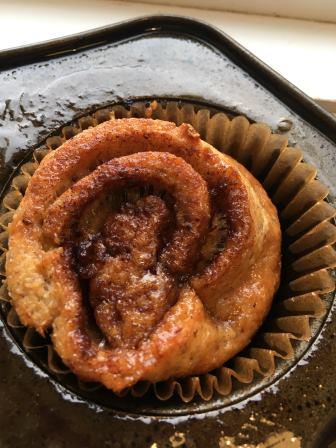 Place rack in center of oven. Preheat to 400F. Yield: 6 Cinnamon Rolls.
Prepare your muffin pan with 6 parchment paper muffin liners.
METHOD FOR THE 'FATHEAD' DOUGH
1. In medium bowl, whisk together:
2/3 cup water
2/3 cup LoveMyBuns BREAD Mix
2. In microwave, melt together, in 15 second increments:
1/4 cup (56g) cream cheese
1/2 cup (56g) shredded mozzarella (light also works)
until just melted (takes about 30 seconds) and stir to combine.
3. Add melted cheeses to LoveMyBuns dough and knead to combine.
METHOD FOR CINNAMON ROLLS
Tear off two pieces of parchment paper, roughly 12″ (30cm) in length.
Use a rolling pin to roll dough between the two pieces of parchment paper, to a rectangular shape roughly 23 cm wide to 18 cm high.
Spread with 2 TBS soft butter.
In a small bowl, combine:
6 TBS sugar or 1:1 sweetener
1/4 tsp cinnamon
a pinch of ground clove
5. Sprinkle all but 1 tsp of the sweetener/cinnamon over the buttered dough.
6. Roll up into a sausage shape. Cut into 6.
7. Place cut side down into muffin liners. Top with remaining cinnamon/sweetener.
8. Bake on middle rack of oven. Reduce temperature to 375F. Bake 30 minutes.
9. Let cool 10 minutes and flip the rolls upside down within their muffin liners, to get all the yummy, sticky caramel at the bottom (as you would an upside down cake).
Line muffin tin with 6 parchment muffin liners.

Whisk water and LMB BREAD mix.

Measure cheeses.

Melt cheeses.

Add cheese to dough.

Knead to combine.

Here is your 'fathead' dough.

Roll out between parchment paper.

Remove top layer.

Spread with 2 TBS soft butter.

Make cinnamon sugar.

Sprinkle with all but 1 tsp.

Roll up into sausage shape.

Cut into 6.

Place cut side down.

Sprinkle with remaining cinnamon sugar.

Pre-flip.

Post-flip: caramel from the bottom!