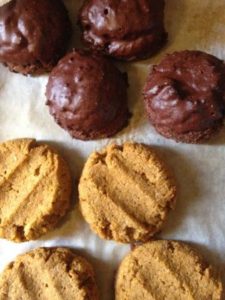 Makes 8 x 2″ cookies.  Preheat oven to 350F.  Prepare a cookie sheet with parchment paper.  If you have a cookie-sized portion scoop, gather that up also.
In a medium bowl or mixer with whisk attachment, mix together:
1 large egg
1/2 cup coconut oil or soft butter
1 tsp vanilla
1/2 cup unsweetened applesauce
1/8 tsp stevia
1/4 cup cocoa
1/2 cup LOVE MY BUNS baking mix
Working quickly, add
1TBS + 1tsp apple cider vinegar, or other vinegar/lemon/lime juice.
Working quickly, portion onto parchment-lined cookie sheet.  Press down with your fingers or the back of a fork.  These are a little cake-y, and won't spread on their own.
Bake 12 minutes.  They need to cool completely (or even refrigerate) before they set up.
Chocolate Ganache Glaze:
In a small heat-proof bowl over a pot of simmering water, melt together 25 g (three squares if you're using Camino Baking Chocolate) unsweetened dark chocolate and 2 TBS coconut milk (or butter) and 1/8 tsp Stevia.  Remove right before it has all melted, or the chocolate and fat will separate. Whisk and cool slightly, and dunk your cookies to glaze.  Let set by cooling or refrigerating.