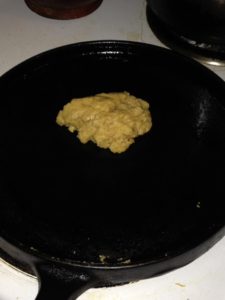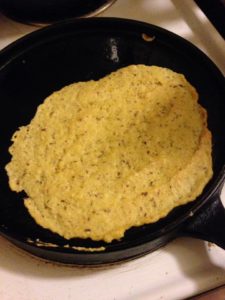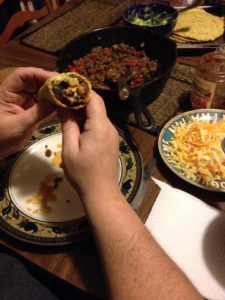 These could be used for enchiladas, crepes, quesadillas… I will post my experiments; but, for now, here you go and enjoy:
Recipe makes 3 x 6″ tortillas.  I tripled the recipe with no issue.
2 large eggs
1/4 c water (If using Love My Buns with the best before date of Sept 26, 2019, November 30, 2019, or February 20, 2020 use HALF the recommended amount of water, use HOT water, and let the mixture sit for a couple of minutes to thicken up before adding the vinegar or acid; different sources of coconut flour have very different properties, apparently!)  
1 tsp vinegar
1 1/2 tsp oil
4 TBS LMB mix
1/2 tsp chili powder (optional)
Whisk and take your time… You want the rising action of the mix to dissipate.
Heat a cast iron skillet on med low (4 of 10 on my dial).
I used only a tiny bit of oil spray on the pan.
Scoop about 1/3 of the mix onto the hot pan.
Slowly and carefully spread the mix with a rubber spatula, and just keep lightly spreading and spreading until you hit about 6″. As the bottom cooks on the pan, you can still spread/scrape the raw stuff on the top towards the outer edges and make the taco bigger.
Let cook about 4 minutes, flip, and cook another three or four minutes.
You can use the back side of your spatula to press it down as it cooks on that second side. It should be golden brown.
Remove and set aside while you repeat with the other 2/3 of the batter.